Centrum Fruity Chewables
High-quality micronutrient supplement for adults in a deliciously fruity chewable tablet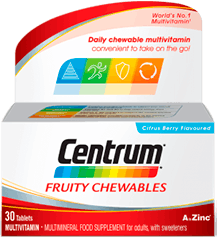 The experts at Centrum have combined important vitamins and minerals into a tasty, chewable tablet.1
Great tasting citrus berry flavour

Convenient when you're on the go
A supplement that supports your diet with high-quality micronutrients

Backed by over 35 years of nutritional expertise

Supports the general wellbeing of adults

Taking Multivitamins Has Never Been So Easy & Fruity!

Centrum Fruity Chewables are designed with adults in mind. They carry a delicious citrus berry flavour in a chewable format, perfect to take anytime, anywhere!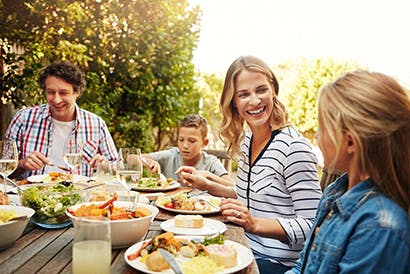 Ingredients such as Vitamin C, Vitamin D and Zinc support the normal functioning of the immune system in adults, whilst Iron also found in this fruity formula helps maintain normal cognitive function.
Centrum Fruity Chewables are available from all major supermarkets or pharmacies.

For adults, take 2 tablets per day. Chew until fully dissolved.

Centrum Fruity Chewables are free from sugar, gluten and lactose and do not contain added colours

The recommended daily consumption must not be exceeded

Contains sweeteners

[*] NRV: Reference value as specified in the EU Food Information Directive.