Centrum Men

High-quality micronutrient formula specifically developed for men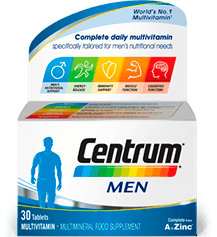 Men have different nutritional needs to women, so Centrum has used its expertise to develop Centrum Men. This formula is specifically developed to help support the nutritional needs of men.3

Tailored formula of 24 essential nutrients specifically developed for men

A supplement that supports your diet with high-quality micronutrients

Tested to high quality standards

Free from gluten, lactose, nuts and wheat

Supports the general wellbeing of adult men
Micronutrients tailored for Men

Centrum Men has been developed with Micronutrients to specifically support men's health and wellbeing.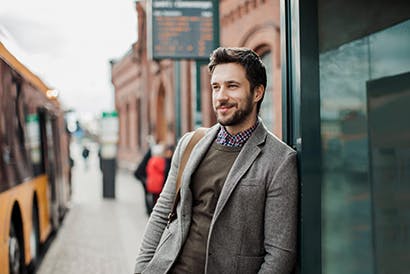 Since men have higher requirements for some nutrients compared to women, the nutrient levels have been adjusted in Centrum Men to help support their health and wellbeing. Centrum Men contains vitamins B6 & B12 which support normal energy yielding metabolism while magnesium contributes to maintaining normal muscle function.
Centrum Men is available from all major supermarkets or pharmacies
For adults, take 1 tablet per day with water.

Centrum Men is sugar free

Centrum Men is gluten-free and lactose-free

The recommended daily consumption must not be exceeded

Vitamin A (RE)
(25% as beta-carotene)
[*] NRV: Reference value as specified in the EU Food Information Directive.