Centrum Women 50+



High-quality micronutrient supplement tailored for women over 50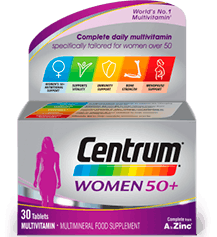 Supporting the nutritional needs of women over 50 who want to live life to the full requires both care and expertise. This forms the basis of the nutrient formula in Centrum Women 50+4.

Tailored supplement for women over 50
A supplement that supports your diet with essential, high-quality vitamins and minerals
Backed by over 35 years of nutritional expertise
Supports the general wellbeing of women over 50
A Fantastic Supplement for Women Over 50
If being at your best is something you want people to notice about you, you may benefit from Centrum Women 50+.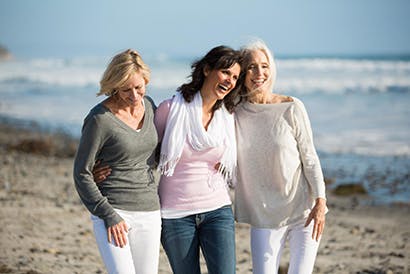 This formula contains biotin, which is important to help maintain normal skin and hair and selenium to help maintain normal nails. Vitamin B6 helps regulate hormonal activity and vitamin B12 supports the normal functioning of the nervous system, while vitamin D helps maintain normal bones and teeth.
Centrum Women 50+ is available from all major supermarkets or pharmacies.

For adult women over 50, take 1 tablet per day with water.
Centrum Women 50+ is sugar free
Centrum Women 50+ is gluten, lactose, nuts and wheat free
The recommended daily consumption must not be exceeded
Vitamin A (RE)
(50% as beta-carotene)