Centrum Women

High-quality micronutrient formula specifically created for women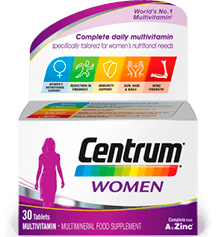 Women have different nutritional needs to men so Centrum has used its expertise to develop the Centrum Women formula which is specifically designed to help support the nutritional needs of women.2
Tailored formula of 24 nutrients specifically developed for women
A supplement that supports your diet with high-quality micronutrients
Free from gluten, lactose, nuts and wheat
More than 35 years of nutritional science expertise
Supports the general wellbeing of adult women
Micronutrients tailored for Woman
When it comes to health and nutrition, one size doesn't always fit all, but Centrum can certainly help. Centrum Women contains key vitamins and minerals to help support the specific nutritional needs of adult women.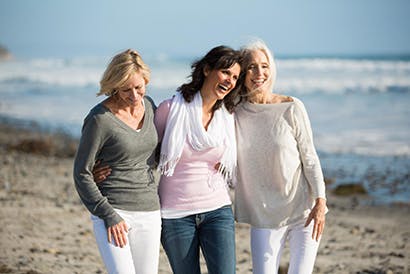 Centrum Women contains calcium which supports maintenance of normal bones as well as iron and folic acid which contribute to normal blood formation. Vitamins B6 & B12 aid a busy lifestyle by contributing to the reduction of tiredness and fatigue.
During the menstrual cycle, women also need significantly more iron to support the regular formation of red blood cells.
Centrum Women is available from all major supermarkets or pharmacies.
For adult women, take 1 tablet per day with water.
Centrum Women is sugar free
Centrum Women is gluten and lactose-free
The recommended daily consumption must not be exceeded
Vitamin A (RE)
(25% as beta-carotene)
[*] NRV: Reference value as specified in the EU Food Information Directive.