Centrum MultiGummies

The deliciously fruity way to get your vitamins and minerals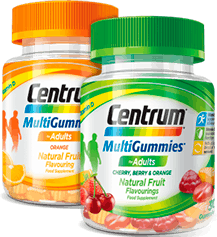 Centrum MultiGummies combine important micronutrients in an easy, deliciously fruity chewable form.1
Selected micronutrients such as Vitamin D which helps maintain normal immune function and Vitamin B6 which helps energy release.
Chewable and can be taken whenever and wherever you want
A supplement that supports your diet with high quality micronutrients
Backed by over 35 years of nutritional expertise
Supports the general wellbeing of adults
A Delicious Supplement for When You're On-the-go
Sometimes you might feel like you are not managing to eat a healthy and balanced diet, due to a busy lifestyle. If you are finding it difficult you may benefit from taking a multivitamin like Centrum MultiGummies.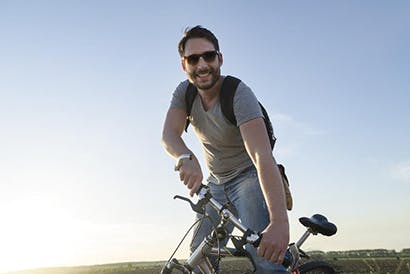 Micronutrients are essential for not only a healthy diet but a healthy lifestyle. The nutrient formula for Centrum MultiGummies was developed by experts to combine important vitamins into an easy to take supplement. Vitamin D is a good example, and is necessary for normal functioning of the immune system. Therefore, Centrum MultiGummies is a simple, yet valuable dietary supplement for adults.
Centrum MultiGummies are available from all major supermarkets or pharmacies.
For adults, take 2 gummies per day. Chew until fully dissolved.
Nutritional supplements should not be taken as a substitute for a balanced, varied diet and a healthy lifestyle
The recommended daily consumption must not be exceeded
Composition per 1 (2) tablet(s)
% NRV per 1 (2) tablet(s)[*]
[*] NRV: Reference value as specified in the EU Food Information Directive.