Centrum Kids

High quality micronutrient supplement for kids in a deliciously chewable tablet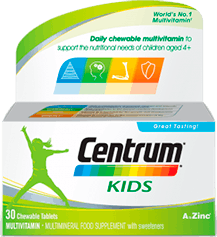 Tasty Chewable tablets developed with a combination of balanced nutrients to support children's nutrition.6
Iron contributes to the normal cognitive development of children

Vitamin D is essential for the growth, development of bones and normal function of the immune system in children

Supports the general wellbeing of children

Running around, getting up to mischief, learning new skills or just growing… kids' bones and brains never rest! With more than 35 years of nutrition expertise, you can trust Centrum to provide your children with vitamins and minerals combined into a great tasting chewable tablet. The Department of Health recommends that all children aged 6 months to 5 years are given vitamin supplements containing vitamins A, C and D every day. Centrum Kids is suitable for children aged 4 plus.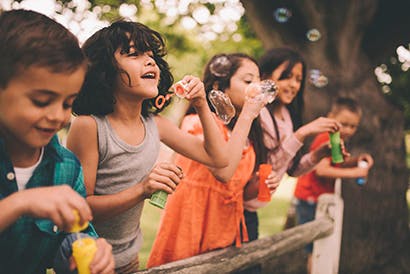 Growing children, especially those who are fussy eaters, may benefit from taking Centrum Kids, which are easy to take and have a yummy citrus berry flavour.
Centrum Kids is available from all major supermarkets or pharmacies.

For children aged 4 or above, suck or chew 1 chewable tablet daily (preferably at meal times).

Gluten, lactose, nuts and wheat free

The recommended daily consumption must not be exceeded

[*] NRV: Reference value as specified in the EU Food Information Directive.